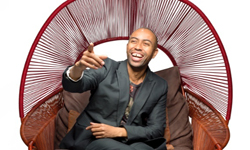 "Design is not form, design is not style. Design is the appropriate relationship of things related to people and culture."
-Stephen Burks
- About -
ONE OF THE MOST RECOGNIZED AMERICAN INDUSTRIAL DESIGNERS OF HIS GENERATION.
HE AND HIS NEW YORK STUDIO, READYMADE PROJECTS, HAVE BEEN RESPONSIBLE FOR CREATIVE DESIGN DIRECTION ON PROJECTS RANGING FROM RETAIL INTERIORS AND EVENTS TO PACKAGING, CONSUMER PRODUCTS, LIGHTING, FURNITURE AND HOME ACCESSORIES. HE HAS DEVELOPED INNOVATIVE CONCEPTS FOR RENOWNED INTERNATIONAL BRANDS INCLUDING ARTECNICA, AUDI, B&B ITALIA, BOFFI, CALVIN KLEIN, CAPPELLINI, COTY PRESTIGE, ESTEE LAUDER AND MISSONI. AS DESCRIBED IN THE NEW YORK TIMES STYLE MAGAZINE T, HE IS THE FIRST AFRICAN-AMERICAN INDUSTRIAL DESIGNER TO EVER COLLABORATE WITH THESE COMPANIES.
A 'DESIGN ACTIVIST', HE WORKS WITH ARTISANS FROM ACROSS THE GLOBE AND SUPPORTS SUSTAINABLE DESIGN IN THE DEVELOPING WORLD THROUGH HIS ASSOCIATION WITH TWO NON-PROFIT ORGANISATIONS: THE NATURE CONSERVANCY AND AID TO ARTISANS.
STEPHEN'S WORK HAS BEEN FEATURED IN NUMEROUS DESIGN PUBLICATIONS AND HIS PROJECTS HAVE BEEN EXHIBITED AROUND THE WORLD.
STEPHEN studid ARCHITECTURE AND PRODUCT DESIGN AT THE ILLINOIS INSTITUTE OF TECHNOLOGY, AS WELL AS ATTENDING COLUMBIA UNIVERSITY'S GRADUATE SCHOOL OF ARCHITECTURE. HE IS A RECIPIENT OF THE ILLINOIS INSTITUTE OF TECHNOLOGY ALUMNI PERSONAL ACHIEVEMENT AWARD, THE BROOKLYN MUSEUM YOUNG MODERNIST AWARD, THE ARCHITEKTUR & WOHNEN AUDI MENTOR PRIZE AND THE 2008 UNITED STATES ARTISTS ARCHITECTURE & DESIGN TARGET FELLOWSHIP GRANT FOR HIS OUTSTANDING WORK IN PRODUCT DESIGN.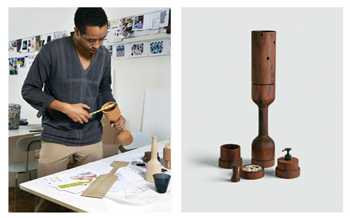 "I'm not interested in saving the world. I'm interested in saving people. By making appropriate material choices for my clients and partnering with the most talented craftsmen in the world, I'm committed to economic transformation by design."